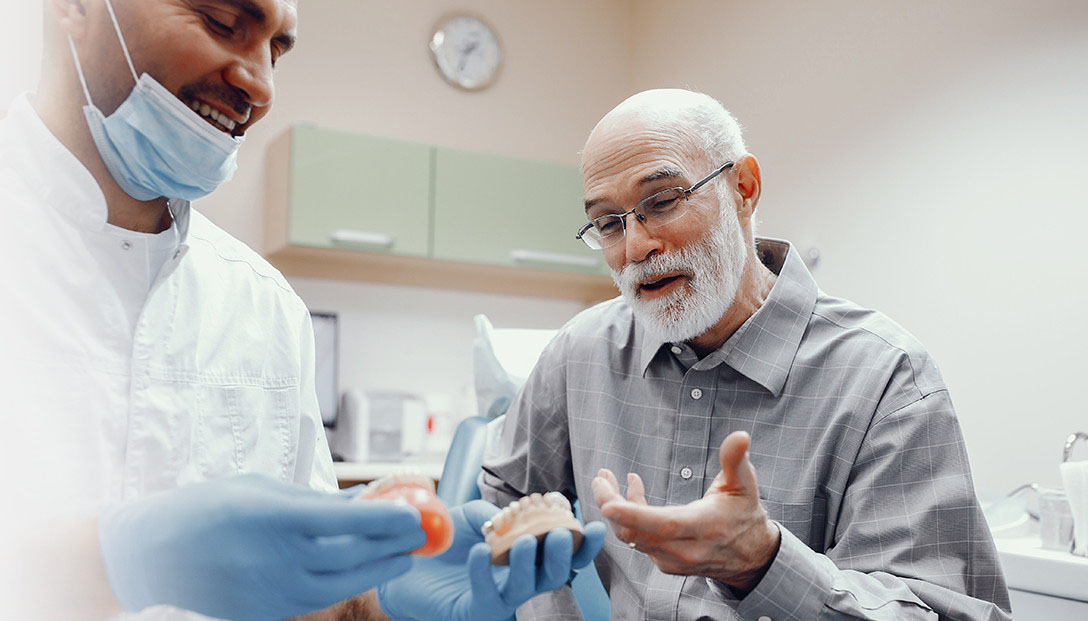 If you've lost some, or all, of your teeth, it is still possible to restore your smile! Partial or complete dentures can help restore the function and appearance of your smile.
Partial dentures may be an option for patients who have some natural teeth remaining. They are removable and can be made to fit either the upper or lower teeth. Partial dentures fit closely to the underlying teeth and gum tissue. They look natural, although sometimes a metal clasp may be visible around one of your existing teeth. They can prevent your teeth from shifting and improve the function of your teeth.
If you have lost all your teeth, complete dentures may be an option for you! These are made to replace all of your teeth on either your upper or lower dental arch. They are typically made out of acrylic resin and are fabricated to mimic natural teeth and gum tissue. They can be removed to clean and are able to drastically improve the appearance and function of your smile.
We will be sure to answer all of your questions ahead of time in order to ensure that dentures are the right option for you. We will also explain how to care for your dentures and keep them looking and feeling as good as possible.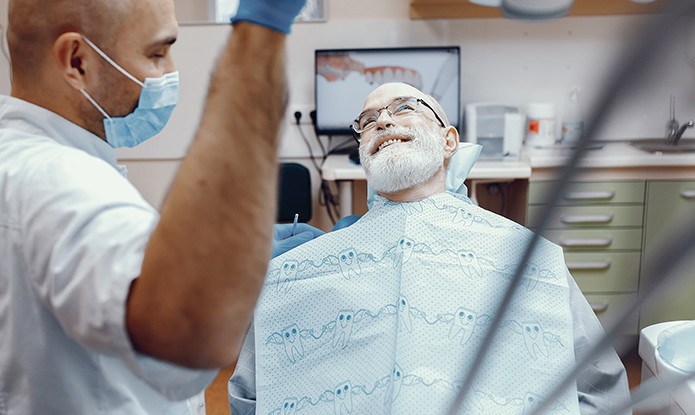 Frequently Asked Questions
We are dedicated to educating our patients and encourage every patient to ask any questions they may have about our dental procedures, services, and aftercare. The following are some of our most frequently asked questions about dentures:
Dentures should be cleaned with denture cleaner and a soft toothbrush. It is ideal to clean them after each meal and remove them at night. We can also clean your dentures at your check-up appointments using our ultrasonic cleaner. We recommend that you:

Use a non-abrasive denture cleaner


Do not try to adjust them yourself


Do not use bleach to try and whiten them
Store in a safe container overnight
Do not use bleach to try and whiten them

Store in a safe container overnight
Why Choose Huron Family Dental
Focused on Your Oral Health
Huron Family Dental is dedicated to providing our community with healthy, beautiful smiles. We believe one of the best ways to help our patients achieve optimal oral health is through education and prevention. Which is why we love to educate our patients on the best oral health care practices and can answer any questions you may have.

Modern Equipment & Techniques
We can ensure you are as comfortable as possible and getting the highest standard of care with our state-of-the-art dentistry equipment. We are also continually updating our knowledge and skills at continuing education courses, conferences and meetings, in order to provide the most effective and efficient treatment for our patients.

Gentle, Caring & Professional Team
Dr. Emily, Dr. Tim and their friendly team look forward to creating lifelong relationships with their patients. We treat our patients with respect and compassion and strive to be as gentle as possible.
Book An Appointment Today!
Give us a call or fill out a contact form to book your appointment. We will be sure to accommodate your busy schedule. 
We look forward to seeing you soon!
Monday…………………………………..8:00 – 5:00pm
Tuesday…………………………………. 8:00 – 5:00pm
Wednesday…………………………….8:00 – 5:00pm
Thursday…………………………………8:00 – 5:00pm
Friday………………………………………8:00 – 3:00pm
Saturday……………………………….. Closed
Sunday………………………………….. Closed