There is a common misconception that having a root canal treatment is extremely painful. However, in reality that is not the case! The purpose of a root canal is to actually eliminate and treat your tooth pain.
Signs You May Need A Root Canal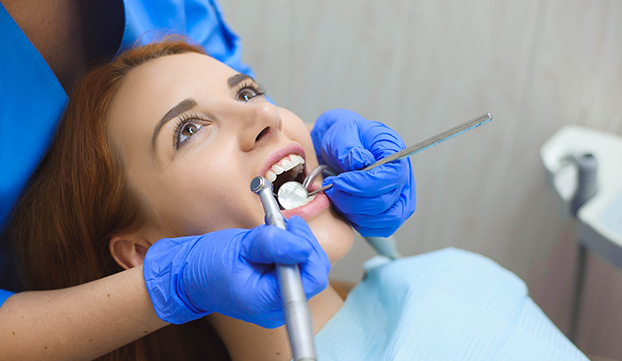 The main symptom that might suggest you may need a root canal is an extremely painful tooth. Typically, patients also note that their tooth is extremely sensitive to hot temperatures (hot food or drink) and hurts when biting on. These are all symptoms of an infected tooth.
In other cases, you may not have any pain at all. If you have a necrotic tooth (ie. dead tooth) that has become infected you will not experience any pain. However, you may notice some swelling or a bump on your gums.
When determining whether your tooth could benefit from a root canal, the first step is to take an x-ray to see the entire root and any presence of infection.
Just like any other dental procedure, the first step is to administer local anaesthesia (ie. freezing). At our office we also offer topical anaesthetic (ie. numbing jelly) that we can apply prior to the injection, to make it more comfortable. Once the freezing sets in, your teeth and gums will be numb and you won't be able to feel anything during the procedure.
Step 2: Isolation & Preparation
The next step is to place a rubber dam. This is essential during a root canal in order to ensure that none of the small instruments we used are swallowed or inhaled. It also allows us to keep the tooth dry. Once we start the procedure, it will feel similar to having a filling done. There will be some drilling and we will use a variety of motor and hand instruments to clean the inside of your tooth.
Step 3: Sealing & Healing
Depending on the extent of the infection, we may choose to seal your tooth the same day, or we may require a second appointment to complete the procedure. We advise patients that they may have some achiness in the vicinity of the tooth for a few days and to take over the counter pain medication as needed.
We will provide you with clear post-operative care instructions and schedule a follow-up appointment to check on your healing if necessary.
Call us to Schedule an Appointment today!
If you are ready to meet our team and take the next step in caring for your oral health, simply give us a call to schedule your appointment. If you are a new patient, please download and complete our New Patient Intake Form and call us to make your first appointment. We recommend arriving 15 minutes early for your first appointment. We look forward to meeting you and welcoming you to the Huron Family Dental clinic!
Crowns After A Root Canal
In certain situations, we may recommend a crown be placed on a tooth that has had a root canal. This will depend on which tooth received the root canal treatment and the state of the remaining tooth. Crowns can help strengthen a tooth that has had a root canal and lengthen the longevity of the tooth.
Why Choose Huron Family Dental
Focused on Your Oral Health
Huron Family Dental is dedicated to providing our community with healthy, beautiful smiles. We believe one of the best ways to help our patients achieve optimal oral health is through education and prevention. Which is why we love to educate our patients on the best oral health care practices and can answer any questions you may have.

Modern Equipment & Techniques
We can ensure you are as comfortable as possible and getting the highest standard of care with our state-of-the-art dentistry equipment. We are also continually updating our knowledge and skills at continuing education courses, conferences and meetings, in order to provide the most effective and efficient treatment for our patients.

Gentle, Caring & Professional Team
Dr. Emily, Dr. Tim and their friendly team look forward to creating lifelong relationships with their patients. We treat our patients with respect and compassion and strive to be as gentle as possible.
Book An Appointment Today!
Give us a call or fill out a contact form to book your appointment. We will be sure to accommodate your busy schedule. 
We look forward to seeing you soon!
Monday…………………………………..8:00 – 5:00pm
Tuesday…………………………………. 8:00 – 5:00pm
Wednesday…………………………….8:00 – 5:00pm
Thursday…………………………………8:00 – 5:00pm
Friday………………………………………8:00 – 3:00pm
Saturday……………………………….. Closed
Sunday………………………………….. Closed